La Raíz Magazine

La Raíz Magazine
is a literary magazine that publishes visual
art and poetry by community members, writers, and artists based in San José, California
and Santa Clara County, while also welcoming work from our national and international community.
La Raíz
publishes work that represents a variety of perspectives, life experiences, and cultures. La Raíz
consciously creates space for work
by people who identify as: women and girls;
members of the global majority (aka: People of Color/BIPOC);
and work by people with Indigenous heritage rooted in areas that are now Mexico, Central America, the Caribbean, and South America.
Through our publication and events, we hope to
promote
inclusion, empathy, and connection.
---
La Raíz Magazine Creative Showcase & Launch Event
Wednesday, February 16, 2022 (6:30-8:30pm Pacific), via Zoom
Register:
http://bit.ly/laraizfeb16
Featuring Contributors; Open Mic segments; Announcement of La Raíz Fund Recipient; Free R
affle

at the end of the event.


Note: This is strictly a safe-space event for all ages. //
Open Mic:
http://bit.ly/laraizopenmic
OR sign up during first five minutes.
We hope you can attend, enjoy, and connect with us!
---
---
La Raíz Magazine
2021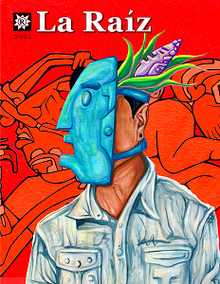 ​Contributors:
Adrian Ernesto Cepeda, Adriana García, Alberto Camacho, Alicette Torres, Angela Rose Flores, Anna Sánchez,
Ariadna Sánchez
Hernández
, Carolina Rivera Escamilla, Cynthia Alessandra Briano, Dee Allen, Edgar 8ahau Fernández,
Elizabeth Jiménez Montelongo, Gabi Magaly,
Gabriela Sinclair,
GusTavo Adolfo Guerra Vásquez, Houyee Chow,
Ilseh Busarelo, Iván Salinas, Ivory Bennett, Janeth Marisol Mejía, Janneth Liborio-Lulo, Jayna A'janee Smith, Jean-Pierre Rueda,
Jennifer Lay, Josiah Luis Alderete, Laura Díaz, Laura Rivas, Leticia Del Toro, Lisbeth Coiman, Liz Márquez, Luis García,
María López Cabrera, Moncies Franco Sr., Natasha Kramskaya, Orizema Cruz Pina, Paula Marie Deubel, Pedro Rivas López,
Rebecca Lee, Rocío Franco, Rohini Y. Deshpande, Rose Menyon Heflin, Sarabjit Singh, Stephen Sariñana-Lampson,
Susana Praver-Pérez, Tania Yadira Márquez, Tshaka Campbell, Victor
"Vico"
Hernández, Dr. Victoria Bañales
2021 La Raíz Prizes
La Raíz Art Prize - Edgar 8ahau Fernández for Reflections (cover)
La Raíz Art Prize
- Sarabjit Singh for
Yogi ji's American Sikhs
La Raíz Poetry Prize
- Ariadna Sánchez Hernández for "Cabello"
​
La Raíz Poetry Prize
- Liz Márquez for "Church Culture"
La Raíz San José Prize
- Rohini Y. Deshpande for
Putting Garland
mobile: rotate view, close ad with x on the top right, tap for full screen icon [ ]
---
Order a Copy of La Raíz
(2021)
Full-color, 44 pages including glossy covers, 11 x 8.5" -
ISBN 9798985392500
Price totals $24 (includes tax & shipping)*
Order Now $24
>
Ships via a third-party service. Choose "USD" at top right. Use a credit card to avoid a "foreign transaction fee" from debit/Paypal.
*Shipping costs to locations outside the continental USA may vary. Shipping is based on address.
Sales support the publication and the La Raíz Scholarship & Community Fund.
---
La Raíz Magazine
(2021) was created with the support of our generous sponsors: Awesome Foundation San José; the CALI Accelerator Program of the Center for Cultural Innovation; the County of Santa Clara Commission on the Status of Women (SCCSW); the San José Office of Cultural Affairs; and Poetry Center San José. Partner organization: School of Arts and Culture at MHP.
Community Partner: Colibrí Collective.
With the support of our partners and sponsors, a digital version of
La Raíz Magazine
(2021) can be read online for free by the public, published by Roots Artist Registry.
The Project Director & Editor is Elizabeth Jiménez Montelongo.
Some of the work published in La Raíz Magazine (2021) is contributed by participants of "Palabras & Poetry: A Community Poetry-Writing Event Series," the 2021 Creative Ambassador project of Elizabeth Jiménez Montelongo; and participants of "I Am Woman," woman-centered poetry-writing workshops provided with the support of SCCSW.​
---
La Raíz Scholarship & Community Support Fund
La Raíz will distribute amounts of $250 as funds are available. Anyone is welcome to apply. Additional consideration may be given to: women & girls, high school students, first generation college students, mothers who are the only adult in their home. Need and intended use will be considered. There must be a minimum of 20 applications per cycle for an award to be disbursed.
Application is in English and Spanish.
$250 - Inaugural recipient to be announced at the La Raíz Event in February 2022:
http://bit.ly/laraizfeb16
$86
available as of January 15, 2022
Next deadline
: to be announced
Apply:
bit.ly/laraizfund
Funded and managed by Elizabeth Jiménez Montelongo (
www.ejmontelongo.com
), ​with the support of Roots Artist Registry (
www.rootsartistregistry.com
),
La Raíz Magazine
(
bit.ly/laraiz2021
), Culture Counts Reading Series:
Culture Counts Magazine
(
bit.ly/culturecountsmagazine
), and community donors.
---